If you've looked at our partner operations page, you may have noticed that there's an area that discusses a "Partner Admin Panel." It's not quite finished yet, but we've got enough to talk you through a quick orientation. Don't worry; it's not nearly as confusing as the guide the gentleman in the picture above is looking at. Read on for more info on what our Partner Admin Panel brings you:
What The Prize Factory's Partner Admin Panel is:
The Partner Admin Panel is a tool for any agency who resells The Prize Factory's promotions to:create their own pricing pages to link to from their site, manage contract creation, and keep track of their sales reps' performance.
Create Your Own Sales Page: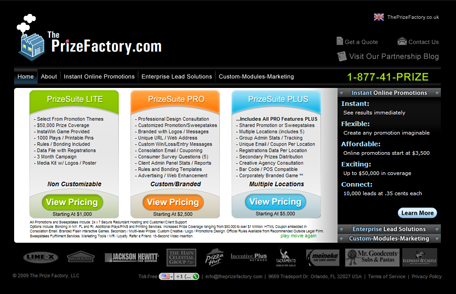 The Prize Factory sells agencies online contests and (if you need it) promotional risk coverage at a flat fee, which doesn't include any of the creative work or sales expertise that the agencies bring to the table for their clients. As a result, the price that we charge isn't what our partners want to charge their clients. We offer a completely flexible tool that lets partners create their own sales pages of our products with their prices integrated, whatever local add-ons are available, and written in local languages with local currencies.
Manage Contract Creation: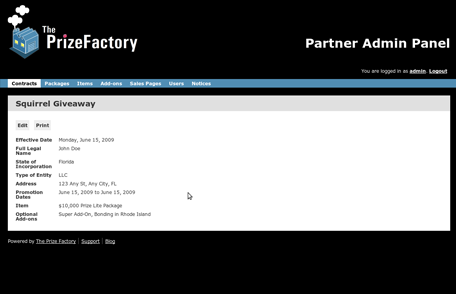 Whether your agency has handled a hundred promotions before or if this is your first one, getting the contract created can be a hassle. The Prize Factory has automated our contract creation process by generating one from the options that you select from easy to use dropdowns and check boxes. For many contracts, you won't even need to contact The Prize Factory for questions about custom quoting, which means that you can get you contracts turned around to your client in just minutes!
Track Sales Rep Performance: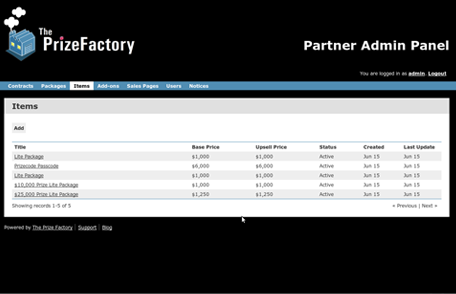 Make it easy to set and track goals for your sales team's online promotions efforts by using our simple Sales Rep Reporting Tool to see how many contracts–and how much money–each sales rep on your team has brought in through The Prize Factory.
There's your quick overview of the upcoming features in The Prize Factory's Partner Admin Panel. Once the Partner Admin Panel is finished (and tested!) I'll start writing up guides to using the panel and post them on the blog for easy reference.
Have a great idea for a feature that you'd like to see in the Partner Admin Panel? Comments start below…