Rumor Has It:
…that Lane Bryant has been raking it in with their new mobile promotion.
Lane Bryant, the fashion retailer for plus-sized ladies, went from mobile newbie to mobile success within just a few months. The clothing company stocked their lists with 16,000 new subscribers who signed up to receive mobile marketing texts, such as coupons, and has continued to use mobile campaigns to boost its reported $1 billion annual sales.
Adding mobile coupons and promotions to an ad campaign helps it spread, as Lane Bryant discovered. The Prize Factory has just added our own shortcode system to our promotions, to make it easier than ever for your clients to get the word out to customers.
Want ideas for how to spread the word on your next promotion? Visit our quickguide, call us at 1.877.41.PRIZE or email info@theprizefactory.com and we'll be happy to help.
Deal of the Week: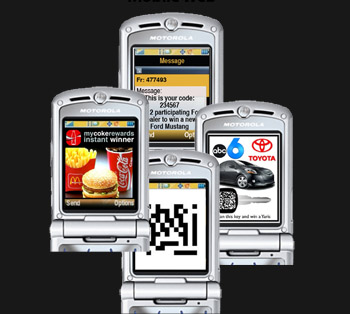 Take your next promotion mobile! The Prize Factory now offers shortcode SMS mobile functionalty for all of our customers and more. Drive traffic to your online promotion by posting your shortcode / keyword combination in retail locations or in ads, or let us create and distribute your own iphone app for you. Try our shortcode out by texting "winwith demo" to 368674 now, or visit our SMS / Mobile promotions guide.
Call us at 1.877.41.PRIZE or email info@theprizefactory.com for more infomation on our mobile promotions.
Got a great rumour about a promotion that you've heard is doing well (is it your promotion that's doing well?) Have a great story or promotions tip you'd like to share? Mail it to us at info@theprizefactory.com and we might include in the next Promotions Alert!
Client Report
Community residents received a promotional direct mail piece with a unique prize code and were invited to play for the $50,000 prize at a designated website. This promotion (costing roughly $5,000) brought in 500 customers and over $5 million in deposits.