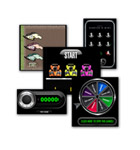 Call it what you will: a game, a contest, an interactive online draw, adding one to a promotion increases engagement, enhances ROI, and saves you and your clients money. Online promotions are a huge growth area for national and regional businesses alike! Borrell Associates projects that online promotions' annual revenue will go from $8 billion to $22 billion by 2012. Now's your chance to partner with The Prize Factory and offer your clients the tools they need.
Take a look at these different games to get an idea what we can do for you:
Interactive Flash Games: Fun with a Chance to Win!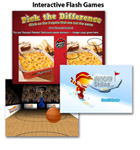 From custom creations like a skiing game to templated games like Shoot for Loot or 50 Yards for 50 Grand, we have interactive Flash games that your clients and their customers will love. With an instant-win result and pulse-pounding action, these interactive promotion contests have what it takes to bring your game to the next level.




Online Scratch Cards: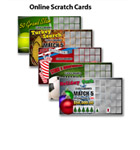 Bring the excitement and energy of a lottery card to your next advertising campaign. With a different prizes from $10,000 to $1 Million, different draws from pick 3 to pick 6, and even exciting High Fives MoneyBags cards–where everyone's a winner in a multi-level prize draw–The Prize Factory delivers the promotion buzz your clients need.




Brandable Event / Holiday Reels: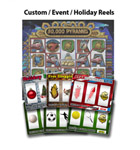 If you don't want to build an advertising campaign around a promotion, we still have a number of brandable event / holiday reels that you can add on to any existing advertising game to bring the enegry and thrill of Vegas to a regular ad campaign. Reels can give multiple levels of payouts, be branded with a client's logo or product, and are fully interactive.